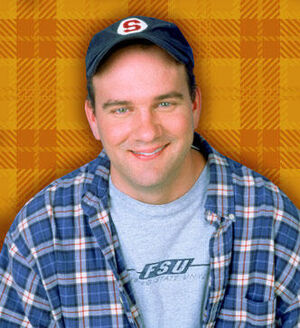 James "Jimmy" Hughes Jr.
is the husband of Christine Hughes (Liza Snyder) and a security guard for a motion picture studio where Greg works. Jimmy has had many jobs over the years including pizza delivery, pet shop clerk, and handing out fliers for restaurants. He and Christina have two sons, Dominic and Logan Hughes. He attended Frostburg State University. Jimmy is a big fan of the Washington Redskins. He was a cast member of the reality show "Big Brother" but was disqualified when his brother-in-law, Greg, interfered. Jimmy is portrayed by actor Mike O'Malley.
Relatives
Edit
Chrisitne  Hughes - Wife
Dominic Hughes - Son
Logan Hughes- Son
Kim  Warner - Sister in Law
Sam Warner- Nephew
Emily Warner - Niece
Greg Warner - brother in law
"Big" Jimmy Hughes - Father
Ad blocker interference detected!
Wikia is a free-to-use site that makes money from advertising. We have a modified experience for viewers using ad blockers

Wikia is not accessible if you've made further modifications. Remove the custom ad blocker rule(s) and the page will load as expected.